Beat the Street Swindon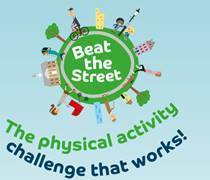 Beat the Street Swindon launches on Wednesday 25 September and promises to be bigger and better than last year! With 70 schools taking part across the area it promises to be an exciting and competitive game. Children must tap Beat Boxes across the community while walking and cycling to score points and help our school win hundreds of pounds worth of prizes. You can pick up your free card and map from lots of distribution points across the town, find a list of them here: bit.ly/2maJfqH. Our school will provide your child with:
Fobs for pupils

- one fob per child. These fobs are pre-registered to the school meaning once handed out they are ready to use and earn points from the day the game commences.
One map per child - due to the size of the area you may find you have both Map 1 and Map 2, which will cover the whole game area. This will be due to our school being close to where the map splits have occurred.
'Parents and Carers' envelopes

- before the game begins, we will provide one to each pupil in their school bags unopened to give to their parents/carers. This provides information about the project and includes a card which can be used by parents/carers.
To help each class see how the school is doing, please encourage the pupils to help complete the chart and see how far they are travelling. Our school will be competing against other schools across Swindon, although the leaderboards will be split to areas so you'll only be competing with schools close to ours, giving you a much higher chance of finishing at the top.

As well as additional leaderboards there will also be lots more bonus events that can be found on social media channels as well as on the paper maps.
Facebook – Beat the Street Swindon
Twitter - @BTSSwindon
Instagram - @btsswindon

Finally, it would be great to get as many parents/carers playing as possible. "Our school needs you! Beat the Street is transforming Swindon into a giant game from 25th September – 6th November. Visit beatthestreet.me/swindon to find out more!" Click on the google map link, find your school's box number and try to find it on the map provided. The link can be found here: https://drive.google.com/open?id=1Xeta8xqckEASOxHXGLMv0UKlBhMrg9Da&usp=sharing
JUST FOR FUN Holiday Club
Sean, Mike and the team from Just for Fun Holiday Club are running a holiday club in the school holidays. The holiday club gives us the chance to do so much with the amazing facilities of the school – use of the computer room, multi games area, trim trail as well as a huge grass area and classroom facilities for all those arts and crafts activities that they do with the children. Bookings are made directly with Just for Fun via their website – please click on the Holy Cross link at the top of page if you'd like to book your child into this venue. If you'd like more information from them, please contact them via their website https://justforfunholidayclub.co.uk/contact
Crazy Crackers Disco
Crazy Crackers disco held in 2018 was a huge success. Thank you to all the parents and families that supported this event. It was very well attended and I think its safe to say that everybody had a great time!