Curriculum
What are the intentions of our curriculum?
At Holy Cross Catholic Primary School, we believe deeply in the importance of helping our children develop as a whole person – happy and ready to take the next steps into their education and lives beyond primary school. As a Catholic primary school, our core Christian values are interwoven into the curriculum. We believe that our individual child's spiritual, moral, social and cultural development is at the heart of their overall education and their ability to learn and achieve. We therefore aim to provide all children with positive, rewarding experiences through a planned and coherent curriculum that is founded upon our Catholic Christian values. Our values are also the vehicle through which we promote the fundamental British values of democracy, the rule of law, individual liberty and mutual respect and tolerance of those with different faiths and beliefs.
To achieve this we teach the curriculum in a dynamic and fun way that means every child can unlock vital skills that will drive their creativity. We believe every child should be given the opportunity to create, compose, perform, visit, experience, participate, know, understand and review as part of a cultural and creative curriculum. All children are encouraged to work together to solve problems, to think critically so they understand different points of view and are expected to care about their learning. Our curriculum is holistic, utilising the child's head, heart and hands, and is rich with thematic learning – we provide many educational visits and visitors that really bring our subjects to life.
Our curriculum is designed to:
Develop the whole child with a focus on their faith and spiritual development;
Develop strong characters in order to be resilient and cope with adversity;
Develop creative individuals who collaborate and co-operate and can solve problems seeing failure as an opportunity to learn;
Develop children who can think critically and care about their learning so they always do their best;
Develop children who have a wide and varied vocabulary and can express themselves clearly with both the spoken and written word;
Develop children who care about their role as part of a family, community and the wider world, encouraging them to feel part of, and to contribute positively, to fundamental British values;
Ensure all children have high aspirations;
Develop a thirst for learning for all children.
How is this implemented?
The Early Years Foundation Stage is a vital part of children's early development and learning. At Holy Cross we provide children with a rich variety of teaching and learning experiences that are appropriate to their individual needs. The basis of the Foundation Stage is to develop key learning skills such as listening, speaking, concentrating, persistence and learning to work and co-operate with others through a variety of play based activities.
The Early Years Foundation Stage is made up of 7 areas of learning:
The Prime Areas
Communication and Language
Physical Development
Personal, Social and Emotional Development
The Specific Areas
English
Mathematics
Understanding the World
Expressive Arts and Design
Learning activities that incorporate all of these learning areas are planned through topics suggested by the children's interests and the children are taught to develop their own learning through initiating their own activities. The outdoor environment is also a very special part of the Foundation Stage curriculum. We are very lucky that we have an excellent outdoor space that we use for a range of learning activities come rain or shine.
Throughout the year the teachers will keep records of the children's experiences and achievements to show their progress over the year. By the end of the year the teacher will have built up an accurate profile of each child's development in order to assess them against the Early Learning Goals. As the children progress into Year 1, children will continue to work on the Early Learning Goals; a phased transition towards the National Curriculum for Year 1 occurs during the autumn term.
In Key Stage 1 & 2, children are mainly taught in mixed ability groupings with some opportunity for children to work in groups of similar academic ability. The core subjects of English, Maths (daily lessons) and Science (weekly lessons) are taught using a thematic approach; making links to the foundation subjects where possible. As a Catholic school, RE is valued as a core subject. The planning and teaching of English and Maths is supported by a number of resources that Holy Cross have selected to best meet the needs of our children.
The English writing curriculum is normally based around a high quality text with opportunities for children to analyse the features, sentence structures and vocabulary used in the particular text type. Then after modelled and scaffolded tasks the children will compose their own writing, drawing inspiration from the original text. Children are encouraged to consider the audience and purpose of their writing. Children will then have the opportunity to edit and improve their work either working with a critical friend, group or individually. In Reading, a variety of teaching techniques is used; ranging from 1:1 adult supported reading to whole class guided reading. Again, high quality texts or extracts from text are used to facilitate language acquisition and development of sentence structure. Teachers monitor progress against the National Curriculum Age Related Expectations (ARE) and additional support is put in place where needed. A range of resources have been selected to support the planning and teaching of reading at Holy Cross.
The Maths curriculum has been evaluated over the past year and the Math Mastery approach is now being used. Maths Mastery means acquiring a deep, long-term, secure and adaptable understanding of the subject. At any one point in a child's journey through school, achieving mastery is taken to mean acquiring a solid enough understanding of the Maths that's been taught to enable the child to move on to more advanced material. Children are encouraged to take risks with their Maths and apply what they have already learnt to varying contexts. Problem solving, pattern identification and reasoning about what the child knows to be true or not is a significant part of the mastery approach. Through the effective implementation of this approach children who show a natural aptitude for Maths are challenged to further deepen their understanding.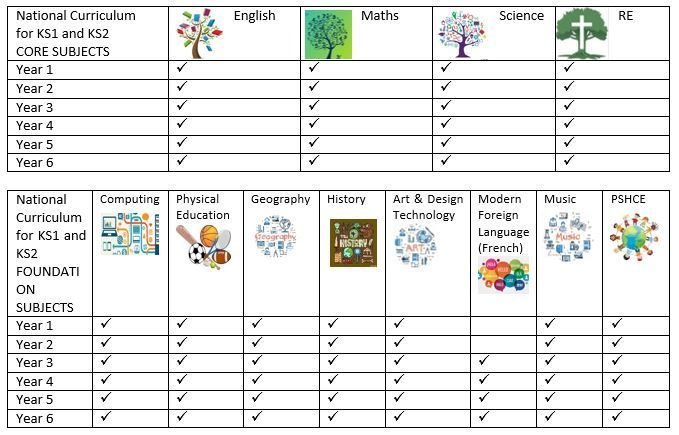 Full details of the National Curriculum for Key Stage 1 and 2 is available through the different subject links on this page of the school website http://www.holycross.swindon.sch.uk/curriculum/subject-areas.
What will the impact of the curriculum be on the children at Holy Cross?
Children's academic progress is assessed using formal testing methods and ongoing teacher assessment. This information is recorded on Target Tracker. We use this information to inform parents of their child's progress, to be able to celebrate a child's achievements and identify children who may need additional support in school. Through the critical section of resources to support the planning and delivery of our curriculum at Holy Cross, we can develop young people ready for the challenges of our modern world and enable them to make their unique mark in that world.